Harissa is een Noord-Afrikaanse chilisaus. Het lijkt wat op sambal uit Maleisië en Indonesië. Maar harissa komt uit Noord-Afrika, uit de Maghreb: Marokko, Tunesie, Libie. En er zijn heel veel variaties. Maar bijna altijd zitten er chilipepers, knoflook, rode paprika's gemalen komijn en korianderzaad in.
De kunst van het maken van harissa chilisaus
Voor het maken van deze harissa chilisaus, is het belangrijk om de paprika's te roosteren en de kruiden vers te malen. Traditioneel worden bakloeti of serrano pepers gebruikt. Maar eigenlijk kunnen ook andere chilipepers worden gebruikt. Ook gebruiken we hier rijpe, zoete tomaten. Deze worden eerst geschild. Er zijn ook recepten waar gedroogde chilipepers worden gebruikt.
Zoals bij de meeste chilisauzen wordt de houdbaarheid door drie factoren bepaald. De zuurgraad, de hoeveelheid capsaïcine (waardoor de saus heet smaakt) en het zoutgehalte. De zuurgraad in deze saus is voornamelijk afkomstig van het citroensap. Als de ingelegde citroen niet voorradig is kun je versgeperst sap gebruiken. Ingelegde citroenen zijn in zout ingelegd en hebben een verukkelijke, parfum-achtige geur. Omdat de hoeveelheid chilisaus die aan het eten wordt toegevoegd meestal klein is, kan het zoutgehalte iets hoger gemaakt worden om de bewaartijd in de koelkast te verlengen. Als je dat niet wilt, kun je ervoor kiezen om porties in te vriezen en tot een jaar in je vriezer te bewaren. De hoeveelheid capsaicine hangt vooral af van de hoeveelheid en de soort pepers die gebruikt worden.
Kortom, als je verse ingredienten gebruikt en het roosteren onder de knie hebt, kan deze saus eigenlijk nooit mislukken!
Speciale benodigdheden
vijzel of mortier
griloven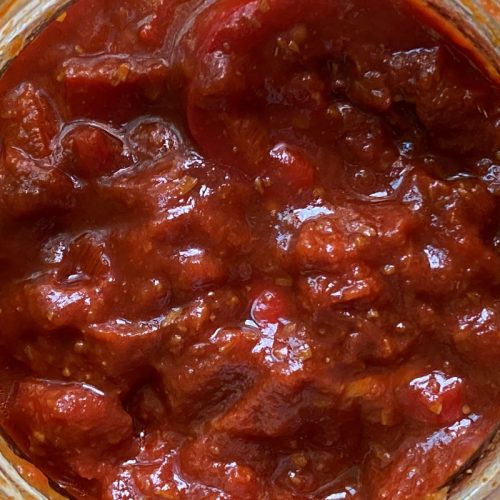 Ingredients
Ingredients
2

zoete rode punt paprika's

5

cayenne pepers

6

tenen

knoflook

200

g

rijpe, zoete tomaten

1/2

ingelegde citroen

1

tl

koriander zaad

1

tl

komijn zaad

1

tl

zout

2

el

olijf olie
Instructions
Het maken van de chili saus
Rooster de puntpaprika's in de oven of in een vlam van het fornuis tot ze zwart zijn en het vel gesprongen is. Laat ze afkoelen en schil ze later.

Dompel de tomaten in erg heet water onder gedurende een minuut en dan koel ze af met koud water. Pel ze en dan snijd ze in partjes

Pel de knoflook tenen schoon en snijd ze in fijne plakjes

Snijdt de cayenne pepers in ringen. Laat de zaadjes achter voor het beste pittige effect.

Rooster de kruiden en maak ze fijn in een mortier als ze zijn afgekoeld.

Snijd de ingelegde citroen in fijne partjes

Verwarm daarna de olie in een pan op middel hoog vuur en voeg de zoete pepers de cayenne pepers en de knoflook toe. Bak gedurende een paar minuten

Voeg dan de ingelegde citroen toe, de tomaten en alle gemalen kruiden en sudder nog gedurende 15 minuten

Bewaar de saus in een afsluitbare glazen pot in de koelkast, of vries porties in.
Notes
Method: roosteren, sudderen
Food allergy & intolerance information

:  geen
Opmerkingen
Gebruik voor het originele recept baklouti of serranopepers. Echter hier gebruiken we cayennepepers in combinatie met zoete rode paprika's.
Als je geconserveerde citroen in je koelkast hebt, gebruik die dan. Het zorgt voor extra geur en smaak in je saus.
Als je een gasfornuis hebt, kun je de open vlam gebruiken om de zoete rode paprika's te roosteren. Keer de paprika's regelmatig om. Laat ze zwart worden en daarna afkoelen voordat je ze schilt.