Thin crusted pizza is an example of covered flat breads that have been developed over many centuries in many regions.
Origin of thin crusted pizza
Generally, Naples in Italy is regarded as the cradle of pizza making as we know it today. In 1807 Naples had already 54 pizzeria's. The dish became more well known in the New World by immigrant Italians. It is among the healthiest 'fast' foods.
The keys to great thin crusted pizza making
Making pizza yourself is easy.
Make this thin crusted pizza when you have some vegetables left and when you are in for a hearty, informal dinner. I like to eat it with more vegetables and with my other favorite toppings. However, a bigger load of vegetables and toppings demands more of the pizza crust, otherwise it ends up soggy.
The two keys to great pizza is making the dough yourself and having access to an oven that can reach at the least 250 C (see note 3). The higher the better. A nice taste will be impaired when part of the dough is first pre-fermented at room temperature (up to a day). Thereafter more flour is added, some olive oil and salt, strengthening the dough by kneading and then further fermented. I never make a round crust, but make a rectangular one on a baking sheet in the oven.
Special equipment
Baking sheet
Oven, preferably able to reach over 250 C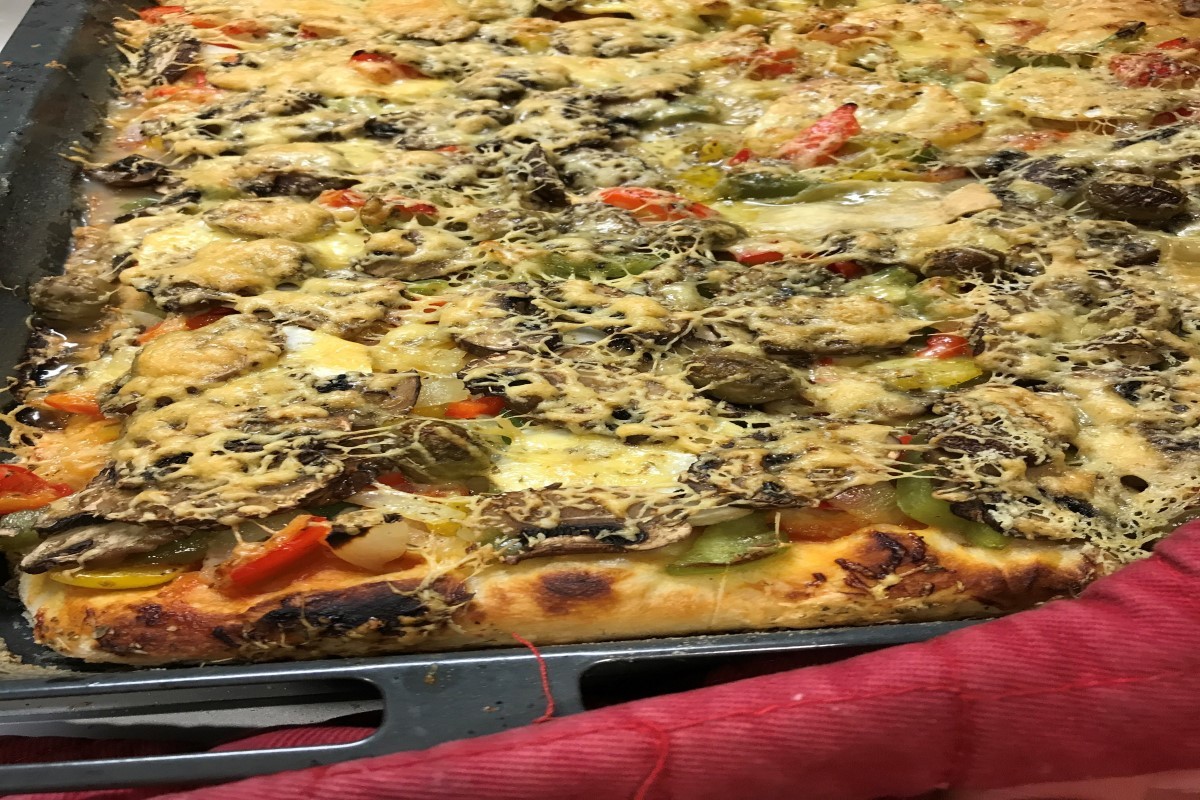 Thin crusted pizza
Ingredients
Ingredients for the dough
10

oz (300 g)

white unbleached bread flour

(protein content 13 %)

1

cup (260 g)

water

25 C

1

tbsp + 1 tsp (20 ml)

olive oil

0.035

oz (1g)

salt

0.035

oz (1g)

dried baker's yeast
Ingredients for the pizza
1-2

medium

brown onions

1

red

pepper

1

green

pepper

20

olives

7

oz (200 g)

sliced zucchini

5.3

oz (150 g)

mushrooms

3.5

oz (100 g)

shredded Beemster

3.5

oz (100 g)

shredded Parmesan

fresh

basil leaves

dried

oregano leaves
Instructions
Instructions to make the dough
For the pre-ferment use 4.2 oz (120 g) flour and ½ cup (120 g) water and 0.1 g of dried yeast. Mix with a fork. The dough is very wet. Place at room temperature for a day or place in a 30C environment when you want to use it faster

When the pre-ferment is bubbly, it can be mixed with more flour, a little salt and some olive oil. Knead and let it rest for an hour

Then, de-aerate, knead it further and if necessary apply a little more flour

After a further 1-2 h resting, use a dough pin to roll the dough on a counter sprinkled with some flour. You may see the dough springs back at times. At that time let the stretched dough rest a while and roll further. Roll as thin as possible, but such that the dough will not cause holes when transferring to a baking sheet

Lightly oil an oven baking sheet and dust with flour

Very lightly dust the surface of the rolled-out pizza dough with flour, so it can be folded, transferred and folded back without sticking. Place the thin dough sheet on the oven baking sheet
Instructions to make the pizza
Peel and cut the onions course, cut the peppers, slice the zucchini and mushrooms. Shred the cheese and have the olives handy

Fry the onions and the peppers only for 1-2 minutes in a wok or pan with some olive oil. Let drain. This step is not needed if your oven can handle 270 C or up

Use a brush to coat the non-cooked rolled out pizza dough on the baking sheet with tomato paste or ketchup

Cover the uncooked pizza dough with the onions, peppers, zucchini, olives, mushrooms and the anchovies and use salt and pepper to taste (anchovies and cheese are salty, so I ignore the salt)

Sprinkle the olive oil oil from the can with anchovies over the pizza or use virgin olive oil instead

Sprinkle the oregano leaves and then the cheese over the pizza, taking care not to forget the area towards the rim

Place the pizza in the pre-heated oven. Bake for 10-11 minutes at 270 C, the rims of the pizza then start to get charred, the contents seems to be bubbling and the cheese is starting to get caramelized

Remove from the oven and release on a wooden board. The pizza bottom should be dry and crusty

Sprinkle the fresh basil leaves over the hot pizza, cut the pizza and serve.
Notes
Method: ovenbaking
Food allergy & intolerance information: gluten, fish
[/vc_column_text][/vc_column][/vc_row][vc_row][vc_column][vc_column_text]
Remarks
Do not use many vegetables where juices come out, or alternatively pre-fry them briefly and let them drain.
Apart from the pre-fermentation of the dough for good taste, a good pizza is obtained by baking the pizza at high temperature. A special pizza oven at 350 C would be ideal, but at home you may be able to reach 250 C and it works well. Higher temperature means shorter baking time, but the crust also improves.
If you are not blessed with an oven that can reach a high oven temperature, then consider to pre-bake the pizza dough first. Do this for only 5-6 min in a preheated 220 C oven. Thereafter apply the toppings and bake again to prevent a soggy dough.