Tom kha gai is a Thai, wonderfully freshly spiced soup. It is traditionally made with chicken breast, but can also be eaten vegetarian style. Then substitute the chicken with tofu.
Look for fresh ingredients in a Thai or Asian market or such section in your grocery store.
The soup can be easily stored for several days in the refrigerator.

Origin of Tom kha gai
This is a Thai chicken soup, making use of the fresh herbs and coconuts that grow so easily in South East Asia. Tom Yam soup is a much more spicy soup, not to be confused with tom kha gai, but also loved by many.
Special equipment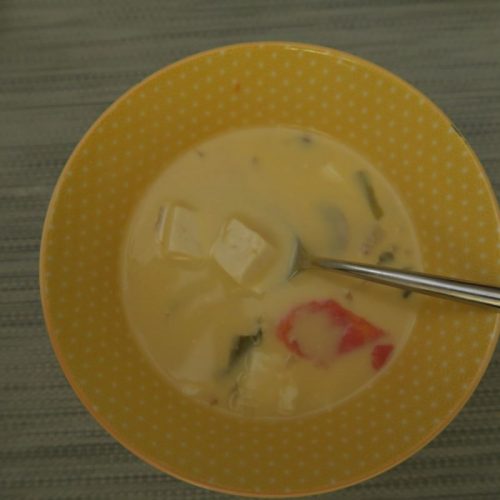 Tom Kha Gai
Ingredients
Ingredients
1

lbs (454 g)

chicken breast (or tofu for vegi version)

2

pints (1 liter)

water

1

pint (500 g)

coconut milk

3

tbsp

chicken powder

3

tbsp

fish sauce

2

tbsp

palm sugar

1

tbsp

tamarind paste

10

small

peeled shallots

3-7

halved

thai red chillies

2

large

peeled tomatoes

7.1

oz (200 g)

button mushrooms

3-4

small

limes

6

coriander roots

1

oz (30 g)

galangal (Thai ginger root)

6-10

kaffer (lime) leaves

4

stalks

of lemon grass

coriander leaves for garnish
Instructions
Instructions
Peel and finely chop the galangal, chop the lemon grass into 5 cm pieces, slice the shallots and tear the kaffer leaves in half. Crush the coriander roots. Cut all the chillies in halves and remove seeds if you do not want to eat too spicy

Immerse the tomatoes for 1 minutes in boiling hot water and then rinse them with cold water. Peel them and cut in 6 or 8 pieces each

Place the water and ¾ of the coco nut milk in a large pot and add the chicken powder, the shallots, chillies, tomatoes, coriander roots, galangal, kaffer leaves and lemon grass. Bring to a boil and cook for 5 minutes

Add the juice of 2 limes, the fish sauce, the sugar, the sliced mushrooms, the remainder of the coconut milk, and the cut chicken breast or the tofu; bring back to the boil and simmer for 10 minutes

Then check the taste, add more lime juice if needed and simmer for 2 more minutes

Garnish the soup with fresh coriander leaves.
Notes
Method:
simmering
Food allergy & intolerance information

: msg
Remarks
For the vegetarian version leave the chicken meat out and substitute by tofu, cut in cubes.