Rocket salad (Rucula in Europe) origins from Italy. But people in the entire Mediterranean region eat this. For this salad we use briefly toasted walnuts and pan fried sliced Portobello's. And serve with a honey/mustard vinaigrette.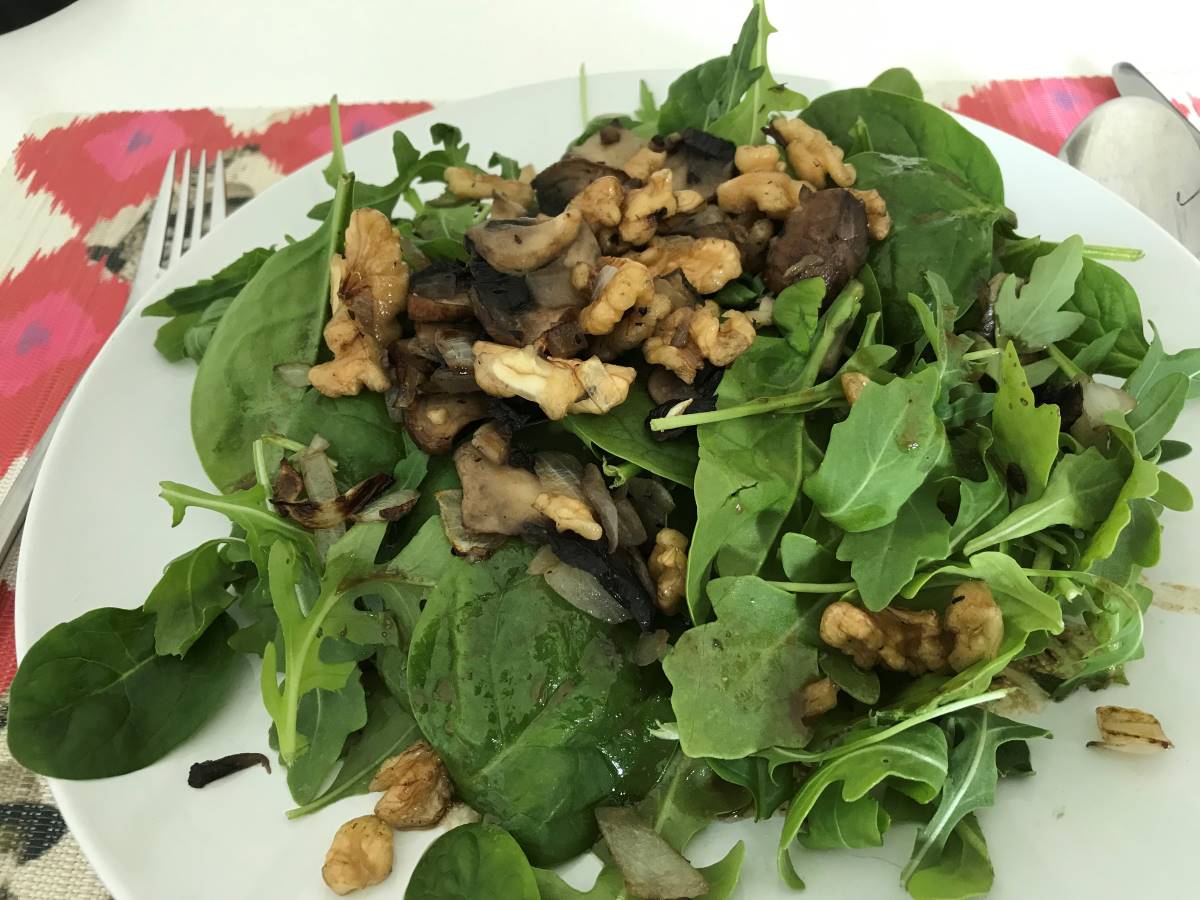 Rocket salad with portobello mushrooms and toasted walnuts
Ingredients
Ingredients for the salad
10.6

oz (300 g)

rocket salad

3.5

oz (100 g)

walnuts

1

shallot of around 3 oz

7.1

oz (200 g)

portobello mushrooms

1

tbsp

olive oil

1/6

tsp

ground pepper

1/8

tsp

salt to taste
Ingredients for the vinaigrette
juice of ¼ lemon

1

tbsp

balsamic vinegar

can be replaced by other vinegar

1/8

tsp

sea salt

1/8

tsp

fresh ground pepper

a squeeze of honey (5 g)

1 1/2

tbsp

Dijon mustard

3 - 4

tbsp

extra virgin olive oil
Instructions
Instruction for the salad
Wash and dry the salad, preferably in a centrifuge. The salad can be stored for several hours up to a day in a moist clean towel in the fridge

Make the vinaigrette (see below)

Place the salad leaves on plates or in a bowl and sprinkle the vinaigrette over the leaves

Slice the shallot and portobello mushrooms in pieces

Place a skillet on the fire, add 1 tbsp olive oil and softly fry the shallot for a few minutes and then add the mushroom slices and the broken walnut pieces. Toss around at medium fire until the mushrooms are tender (some 5 minutes)

Season with some sea salt and fresh pepper

Cover the salad with the walnut and shallot/mushroom mixture
Instruction for the vinaigrette
Mix the lemon juice, mustard, vinegar, salt, pepper, and honey to a homogeneous mixture

Add the olive oil (aiming for roughly equal weights of aqueous and oily phase) and mix thoroughly and let stand

Before pouring it over the salad leaves, thoroughly mix again
Notes
Method

: pan frying
Food Allergy & Intolerance Information

: tree nuts
Remarks
The mustard is a good emulsifier. Also the citrus juice helps in making a stable vinaigrette.
Experiment endlessly by adding herbs to the watery phase. For example dill or oregano. Or by changing the citrus (use orange, lime, grapefruit, kumquat etc) for the juice.