Saag Gosht is a traditional Punjabi meat dish and a delight to make and even more to eat. It is a curry made with goat or lamb (gosht) and spinach (saag). Ensure you have the spices whole and can grind them freshly toasted.  If your are not living in South Asia make contact with your Indian spice provider or visit an Asian store. Invest in a mortar and pestle if you do not have one yet. Then you will be more inclined to make these delectable dishes from the South Asian sub-continent. Eat Saag Gosht with naan, chapati or rice.
The art of making saag gosht
The key is to grind the spices after toasting as much as possible. The spinach is cooked and drained separately.  It is best to use ghee instead of butter as it can handle a higher temperature which is needed to pop the whole spices used in the recipe. Do not use too lean meat: it needs to braise some time and in this period tough pieces of meat will become tender.
In essence making saag ghost with lamb and spinach is fail safe. I always make the dish somewhat in advance, to have the advantage of further taste development while cooling down. The large majority of the cooked and drained spinach is added just before serving.
Special equipment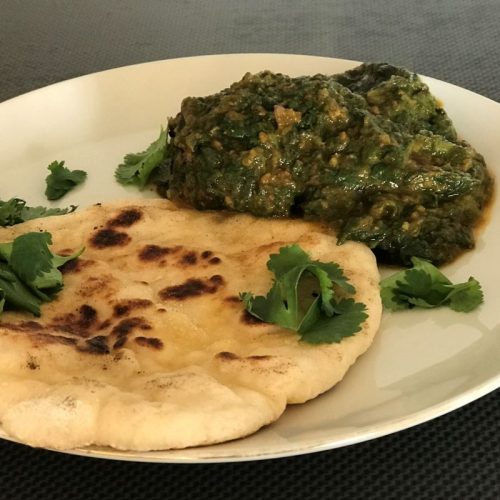 Saag gosht
Ingredients
Ingredients
1.5

lb (700 g)

lambs meat (shoulder or leg)

2 lb

(900 g)

spinach

3.5

oz (100g)

ghee

4

dried

Asian chillies

3

cloves

1

medium

stick cinnamon

5

green

cardomom pods

1

tbsp

coriander seeds whole

2

tsp

coriander seeds ground

2

tsp

cumin seeds whole

1

tsp

cumin seeds ground

2

large

brown or red onions

3

large

tomatoes

1

tsp

ginger grated or diced

3

tsp

garlic minced

0.5

tsp

turmerac

0.5

tsp

garam masala

2

tbsp

sliced fennel or cellery leaves

two

cups (500 ml)

meat broth

0.5

cup

cream or yoghurt

salt

black pepper

2

tbsp

fresh coriander leaves
Instructions
Instructions for the main preparations
Mince 3 cloves of garlic and keep a third aside

Cut the meat in 1/2 inch by 1.5 inch x 1.5 inch pieces (roughly)

Season with some salt and pepper

Heat up one tbsp of ghee in a heavy bottomed pan

On high fire, brown the meat on all sides

Add a cup of water and one clove minced garlic to the meat and braise for 1.5-2 hr at low

Meanwhile peel and cut the onions and ginger

Wash the spinach and transfer to a separate cooking pot without draining

Cook the spinach for 8 minutes

While the spinach is cooking, briefly toast the coriander and the cumin seeds in a skillet and let cool a bit. Grind the spices in a mortar and pestle and reserve
Instructions to cook the dish
Place the tomatoes in a bowl and use the hot spinach drainwater to cover the tomatoes

After 2 minutes rinse the tomatoes under cold water and peel and cut them. Let the spinach further drip dry

In another heavy bottomed pan, melt 1 tbsp of ghee and add the red chillies, cinnamon stick, cardamom seeds from the pods and cloves until fragrant

Then add the cumin and coriander seeds and when they start to pop add the onions

Panfry the onions on medium, until they are golden brown, 15-20 minutes Use a lid for the last 10 minutes. Do not led the onions caramelize

Subsequently add the ginger, remaining minced garlic and turmeric and heat for 2 minutes on medium high

Then add the diced tomatoes and fry on medium for about 5 minutes or when the tomatoes have become soft

Add one quarter of the spinach and cook for 1 minute

Transfer the contents to a bowl. Reserve the cinnamon stick

After the meat has braised for 1.5-2 h and is tender, add the juices to the bowl as well.

Use the immersion blender to make a thick slurry. If too thick, add some meat broth

Transfer the slurry back to the pan and cover with the ground cumin and cardamom; heat for 1 minute

Transfer the meat pieces into the slurry and heat for 15 more minutes

Cut the drained spinach with a knife fine

Bring the mixture to taste with salt

Just before serving mix in the spinach and heat through

Optionally add some yoghurt or cream before serving

Serve with some fresh coriander leaves
Notes
Method: braising
Food allergy & intolerance information

: milk-cream/yoghurt
Remarks
While the dish traditionally uses mutton, goat or lamb, you may use beef if there are no cultural or religious restrictions for you or your guests.