Green mango salad is a favorite in South East Asia. Different regions have their own versions.  It comes together rather quickly and requires a minimum use (if any) of the stove. It is fresh, uncooked vegetables with fresh lime juice and savory fish sauce. In this recipe the Vietnamese mint, although not part of the mint family at all, imparts that very subtle flavor, typical of Vietnam. 
The art of making green mango salad from Vietnam
It is an easy dish and outside south-east Asia, possibly obtaining the green mango is the biggest challenge. While the dish is also tasty with ripe mango's the green mango's provide the tanginess and bite to this salad. And green mango's are nothing else but unripe mango's.
We lightly pickle some vegetables to provide a bit more taste that will help to blend in the flavors. Fresh vegetables are important. No cooked vegetables, really, so all the goodness is still in there. Vietnam is using a lot of shrimps and the peanuts sometimes are replaced by fried, shredded coconut. Or use cashew nuts.
Special equipment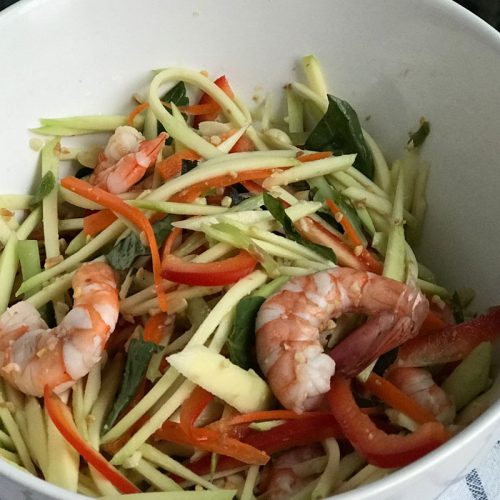 Green mango salad - a Vietnam favorite
Ingredients
Ingredients to make the green mango salad
1

large green mango

1/2

red bell pepper

5

oz (145 g)

(dried) shrimp

1

bunch

washed rau ram or laksa leaves

(also called Vietnamese mint and Vietnamese coriander) Can be replaced by fresh mint and basic leaves

3.5

oz (100 g)

toasted and coarsely ground (raw) peanuts

1/3

cup

fish sauce

1/3

cup + 1 tbsp

sugar

2

dried red, Asian, chillies cut in two and seeds removed

1/2

cup

carrots (julienned)

1/2

cup

cucumber (julienned)

1/3

cup

lime juice (the juice of 2 limes)

2

shallots

2

tsp

olive or other vegetable oil
Ingredients for the light brine
1

tbsp

salt

1

tbsp

sugar

2.3

cups

water

1

inch

of peeled ginger root (finely sliced)
Instructions
Instructions to make the mango salad
Peel the green mango and cut it in 1/12 inch by 1/12 inch (2 mm by 2 mm) strings

Julienne the carrot, cucumber and red bell pepper, Place them in the light brine (see above) for 1 hr

Roast the raw peanuts in a pan or the oven (160 C, 15 min) , let them cool and thereafter crush them

Pan-fry the shallots in the oil; ensure they are not getting black, but brown is OK

Boil the fresh shrimp for a minute in water, drain and let cool; alternatively lightly fry the shrimp 1/2 min on each side in the pan where you fried the shallots

Make the dressing by mixing 1/3 cup of sugar, the fish sauce, the lime juice, the two cut chillies and 1/3 cup of water. Stir well to dissolve the sugar

Drain the sliced cucumber, red bell pepper and carrot

Then bring all the solid parts together in a bowl and sprinkle the dressing over it. Toss around, thereby scooping also the dressing from the bottom of the bowl

Serve on a plate, or a shallow bowl
Notes
Method:

no heat treatment
Food allergy & intolerance information

: fish (if used)
Remarks
As the dressing does not contain oil, it will not adsorb on the vegetables so well. get used to having a good part of the dressing on the bottom of the bowl or plate.
Many variations can be applied: use some shredded, fried coconut or add additional coriander, thai basil or mint leaves