Harissa, North-African spice maker is what Gochujang is in Korea, Lajiaojiang in China and Sambal is Malaysia en Indonesia. It is the ultimate chilli pepper sauce that is made in North Africa, in the Maghreb. There are obvious many variations around, but in general the ingredients are chilli peppers, garlic, sweet red peppers or tomato, cumin, and ground coriander seeds.
The art of making Harissa North-African spice maker
The key to making this sauce or paste is the roasting of the peppers and the freshly ground spices. I also use tomatoes, which should be ripe, sweet and peeled. As with most of the chilli sauces, the best before date in the refrigerator is largely determined by the acidity, the amount of capsaicin (which makes the sauce taste hot) and the salt content. The acidity in this sauce comes from lemon juice either from fresh juice or from a preserved lemon.  The salt content you may vary. As usually the amount of the chilli paste added is minor, the salt content may be a bit higher to increase storage time. If you do not want to do that, you may opt to freeze portions and keep up to a year in your freezer.
Special equipment
mortar and pestle
grill oven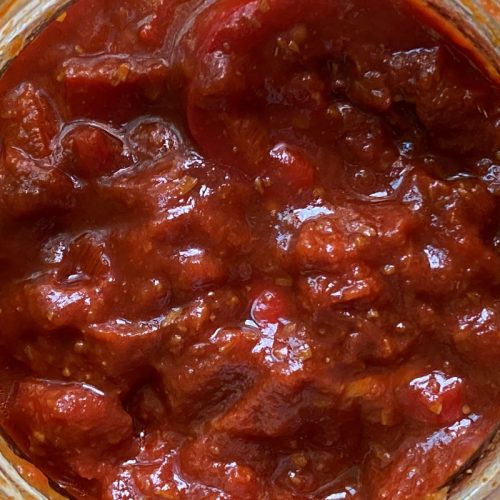 Harissa North-African spice maker
Ingredients
Ingredients
2

sweet pointed red peppers

5

cayenne peppers

6

cloves

garlic

7

oz (200 g)

ripe, sweet tomatoes

1/2

preserved lemon

1

tsp

coriander seeds

1

tsp

cumin seeds

1

tsp

salt

2

tbsp

olive oil
Instructions
How to make the chilli sauce
Roast the sweet peppers in the oven or in a flame until black and blistering. Let them cool and peel them thereafter

Place the tomatoes in very hot water for a minute and then coll off with cold water. Peel them fist and then cut them in parts

Clean the garlic cloves and slice them fine

Cut the cayenne peppers in rings. Leave the seeds for best spicy effect.

Roast the spices, and grind them in the mortar and pestle after they have cooled down

Cut up the preserved lemon in fine parts

Then heat the oil in a sauce pan and add the sweet peppers, the cayenne peppers and the garlic. Fry for a few minutes

Then add the preserved lemon, the tomatoes and all the ground spices and simmer for another 15 minutes.

Store the sauce in a jar in the refrigerator or freeze portions to keep longer
Notes
Method: roasting, simmering


Food allergy & intolerance information

:  
Remarks
There are many variations: for a very traditional way use baklouti or serrano peppers.  Here we use cayenne peppers in combination of sweet red peppers.
If you carry preserved lemon in your refrigerator, use that. It provides for additional perfume in your sauce.
If you have a gas stove, you can use the open flame to roast and blacken and blsiter the sweet red peppers. Turn the peppers regularly and after black, let them cool before peeling them.