Spinach soup is made from the a colder climate vegetable. Spinach is rich in vitamins and minerals such as iron, potassium and calcium. Make this soup in a few minutes and with a creamy taste.
The art of making spinach soup
Also in warmer areas with a slightly colder winter, spinach can thrive in early spring. In Nanjing in China, I had large amounts from the garden from February and early March. Spinach also contains oxalic acid, which could cause kidney stones for sensitive people when eating too often. But in general making this soup is an easy way to capture the healthiness of this delicious vegetable.
The most important items to watch for are freshness of the leaves and not using too much water to cook them in.
Special equipment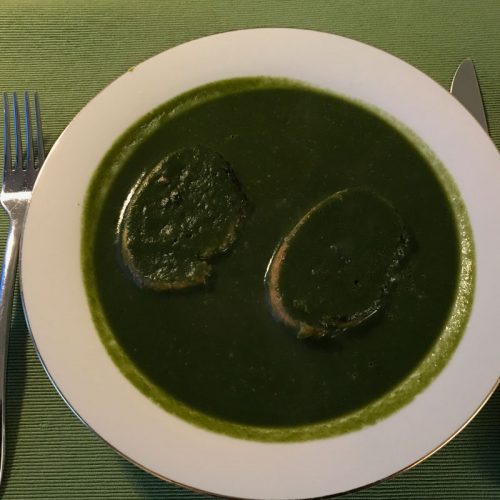 Spinach soup with garlic crotons
Ingredients
Ingredients for the soup
3

shallots

2

lbs (1 kg)

spinach

2 1/2

cups

broth (meat or vegetable based)

1

tsp

marjoram

1/4

tsp

pepper

salt
Ingredients to make the garlic croutons
1/2

baquette or ciabatta

4

cloves

of garlic

2

tbsp

butter
Instructions
Instructions to make the soup
Peel, slice and then fry shallots and sweat them until golden yellow

Meanwhile wash spinach and add to the pan with adhering water

Add the broth or water and a broth tablet

Bring to the boil and cook spinach until tender (5-10 min). Then use an immersion blender to make a creamy spinach soup. Less broth or water makes for a more intense and thick soup. Add marjoram, a little white pepper and salt to bring to taste. Stir
Instruction to make the garlic croutons
Slice the bread, clean the garlic cloves and grate them

Place them on a baking sheet at 140 C in the oven and turn them. Check both sides become lightly brown. Also they should become hard and brittle

Melt butter and mix in the grated garlic

cover the browned and dried bread slices with garlic butter and best is to fry each side in a pan

Use these in a deep plate and pour the soup over them. Serve.
Notes
Method:
simmering
Food allergy & intolerance information

: none
Remarks
The garlic crotons can be made ahead of time