Puff pastry is available in many grocery stores from the freezer section. This commercial pastry often contains palmfat or margarine and may contain even some transfats. All this to make the puff pastry cheaper to produce and provide a longer shelf life. But a dessert or pie made from butter-based puff pastry tastes so much better!  Make the puff pastry yourself the traditional way with butter and store it in the freezer. 
The art of making puff pastry
Puff pastry puffs up when heated in the oven to form this very light pastry that is most familiar from and similar to croissants, but is widely used for baker's pastry, pies and making containers for ragouts. The mechanism for this 'puffing' comes from the 15% water that is emulsified in the (butter) fat, which in turn is layered in hundreds of miniscule layers in the dough. In the oven, water turns into steam and pops the dough. The puff pastry roughly contains 30% of butter fat or 36% butter.
There is not much skill needed to make puff pastry. Attention points are keeping the dough with the butter chilled. So put it regularly back in the fridge or freezer (if you are less patient). Also try to keep the butter layers in tact by being somewhat precise in the folding. Through the folding in three parts, every fold will multiply the number of layers by three. So six times folding in three results in 729 miniscule layers of butter in the dough. during the making process
After each fold-in-three, turn the dough 90 degrees to roll it out to a size around three times larger. After 2 such folds, chill. Always use chilled puff pastry when forming the products you want. Store in the freezer for longer time (up to 1 year). But ensure it is tightly packed to prevent freezer burn.
Special equipment
dough pin
baker's scraper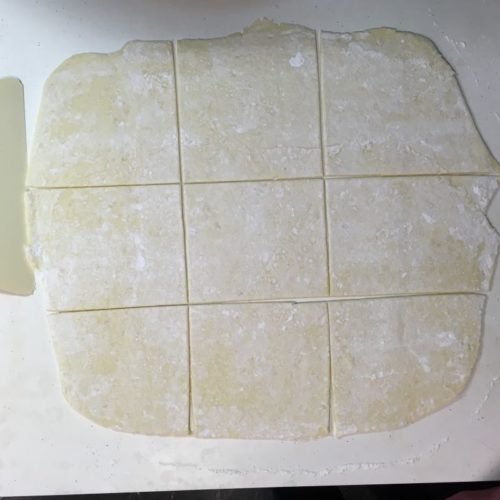 Puff pastry
Ingredients
For the puff pastry
2

cups (250 g)

all purpose flour

protein content 7-10 %

1

tsp (6 g)

salt

1/2

cup (125 g)

cold water

7.5

oz (214 g)

butter
Instructions
Making the puff pastry
Mix the flour, the salt and the water to a hard, but smooth dough. Make into a ball

Set the dough aside for an hour in the refrigerator covered (cling wrap or other)

Meanwhile weigh the butter and create a rectangular layer of around 1/4 inch thickness

Then take the chilled dough and roll it in a rectangular form equally wide as the butter, but twice longer than the butter.

Place the butter on top of the dough; matching the dough on two sides; ensure the butter is still pretty cold

Then fold the rectangular dough without butter on top first one quarter back on the butter covered dough; then fold the other quarter with the butter on top back. So a 'butter-dough' package of one half the original dough size is obtained

Press with the dough pin the sides, so that butter is not squeezed out later and rotate the 'package' by 90 degrees

Then roll the 'package' out to 3 times the size and repeat the folding, but now one third and one third are folded back. Do not forget the squeezing of the sides with the dough pin.

Cover the 'package and let it chill up in the fridge for 20-30 min (depending on the kitchen temperature) or even freezer

Take it out and then place it with the widest side pointing towards you and roll it out 3 times in length.

Then fold it in three again, squeeze the sides, rotate 90 C and roll it out again

Continue doing this in total 6 times (729 layers), interrupted by chill periods in the fridge

Then roll it out to a surface area of 9 times the 'package' (1/10th inch thickness) and cut it in 9 sheets

Your puff pastry should be chilled before using it to place in a form or form a pastry

Before baking it (200-225 C), brush it with an egg mixture to make the outside golden brown
Notes
Method:

no heat treatment
Food allergy & intolerance information

: cow milk
Remarks
When doing this in a warm kitchen, try to roll it on cooled surface or chill it frequently. If your kitchen is in the tropics and not air conditioned, do not try this.
Use cling wrap or parchment paper to separate the final puff pastry sheets and pack this in a re-sealable plastic bag in the freezer (up to 1 years) or refrigerator (the latter for shorter periods)