Making mayonnaise is one of the most fun activities to do in the kitchen. The key is whisking (by hand or using an immersion mixer) and using the right ingredients and the right sequence of adding them.
The art of making mayonnaise
Mayonnaise is an oil in water emulsion, with a very large proportion of dispersed oil droplets in the aqueous phase. You can notice this as mayonnaise left-overs in a dish or bowl can be easily washed away with water. This is proof that the continuous phase is aqueous.
As the aqueous phase we use a combination of (apple) vinegar and fresh lemon juice, with sugar (honey), (sea) salt and finely ground (white) pepper as taste enhancers. Part of the aqueous phase will contain also (Dijon)mustard.
The lecithin from the egg yolk, and the gums from the mustard seeds provide emulsification and stabilizing power. Adding a pinch of xanthan gum early on, will further stabilize the emulsion and keep it thick.
Use for the discontinuous, emulsified phase a vegetable oil, preferably a vegetable oil with a very neutral taste level. Sunflower, rapeseed (canola) or grapeseed oil or a combination thereof. I prefer cold pressed oils as they will have more of their original unsaturation preserved than steam treated oils and may still contain some phytonutrients.[/vc_column_text][vc_column_text]
The taste of mayonnaise
The taste of mayonnaise is a personal affair and small variations in the non-oil ingredients can have an important effect on the taste. So be careful with adjustments. Among commercial mayonnaise products, I prefer the Japanese brands as they use more mustard. American brands mayonnaise are usually more on the sweet side.
You can store this mayonnaise in the refrigerator for over 3 weeks. The vinegar (from apple vinegar and mustard) and the lemon juice decrease the pH and make the environment less prone to bacteria and mold to grow.
Special equipment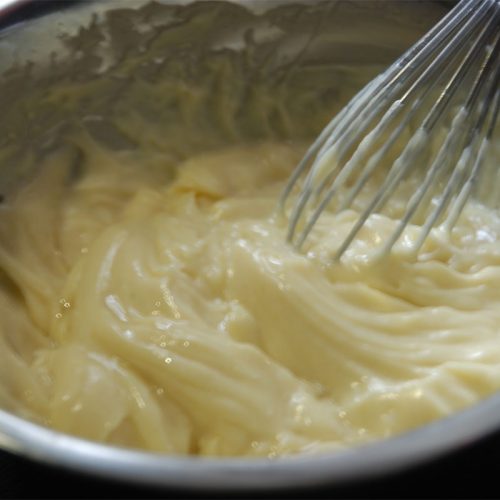 Mayonnaise
Ingredients
Ingredients
1

(20 g)

middle sized egg yolk

4

tsp (25 g)

Dijon mustard

1/2

knife point

xanthan gum

(optional)

1

tsp

apple vinegar

2

tsp

freshy squeezed lemon juice

1/4

tsp (1.5 g)

salt

1/4

tsp (0.8 g)

white pepper

squeeze

(6 g)

of honey

1/4

tsp

Maggi condiment

1 1/2

cup (328 g)

cold pressed sunflower oil

(any neutral tasting vegetable oil is fine)
Instructions
Instructions
Start with bringing all ingredients to room temperature. Separate an egg yolk from the white and use the yolk

Add 4 teaspoons of Dijon mustard and optionally the pinch of xanthan gum and mix with the whisk

Then add 1 teaspoon of the apple vinegar, add a ¼ teaspoon of fine granular salt, ¼ teaspoon of white pepper, ¼ teaspoon of Maggi aroma and mix

Measure 1.5 cup of sunflower oil (328 g)

Whisk in the oil, first drop by drop, later in a slightly larger stream, while mixing vigorously. The mixture will become more and more viscous

Keep whisking and when about half of the oil is added, add some fresh lime juice (around 2 teaspoons) and the 6g honey and whisk in. The emulsion will become slightly thinner and a little more whitish. Then continue to whisk in more oil, until the mixture becomes really viscous

If so desired, add more fresh lemon juice (be careful to use drops), salt or honey to taste and keep mixing. Add a bit of oil to bring back to viscosity and that is the base.

Place the thus obtained mayonnaise in a container and let it mature in the refrigerator for a day to let the flavors blend in.
Remarks
For garlic mayonnaise, take a garlic head and place it in a bowl and a little bit of oil in the oven at 392 F (200 C). When the garlic becomes brownish and soft (some 45 min), take it out, let it cool down, peel it (very easy) and then mash it with a fork. Work it into the mayonnaise. It has a great roasted garlic taste. One can also work in some small diced gurkins or just some chives or green onion.
For a lighter (lower fat) version, use in addition 4 tbsp of water, add 0.1 g of xanthan gum to keep a high viscosity and just reduce the amount of added oil phase. In this case, increase the amount of vinegar or lemon juice a bit and add a bit more sugar or honey and salt to taste.
Please note that using the immersion blender, the mayonnaise tends to get thicker, but overdoing it will make it thinner again. Therefore I rely on making it manually with the whisk. A knife point of xanthan gum will help to keep the emulsion thick and stable. Too much of this is easily added and negatively affects the organoleptic properties of the mayonnaise. For this reason instead of eating the lighter version, consider to eat less of the full version.
Caution: The use of raw eggs may increase the chance of a salmonella infection slightly. Use eggs from a good, well selling brand and in order to absolutely eliminate any chance, a whole egg may be first pasteurized in water of 60 C for 5 min. The egg yolk will not solidify at that temperature yet, while bacteria and viruses get killed.
The Maggi aroma adds umami flavor from the hydrolyzed wheat proteins and also salt. If you omit, at the least correct for salt level. You may also substitute Maggi by light soy sauce.