A sauce as delicate and special as its simplicity to make it. 
Origin
This sauce originates from South China and is well known by virtually every Chinese person. And people who normally do not eat ginger often still appreciate this sauce.  The sauce pairs perfectly with poached poultry and rice and is an inseparable part of the South Chinese New year's dish "Bok Chit Gai" and of Hainan chicken rice.
The sauce can be stored for a full week in the refrigerator.
Special equipment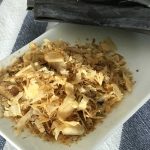 Print Recipe
Dashi, broth from Japan
Ingredients
Ingredients
0.25

oz (5 X 3 inch piece)

kombu (kelp)

4

cups (1 liter)

purified water

0.75

oz (about 1.5 cup lighty packed)

katsuobushi (bonito flakes)
Instructions
Instructions
Briefly wipe with a damp cloth the kelp to remove any grit, but leave any white stuff. Also prepare the fine mesh strainer lined with the cheese cloth and a large bowl.

Add the water and the kombu to a pan and place it on heat without a lid. Heat until small bubbles break the surface (around 90 C). Take the pan off the heat

Remove the kombu using tongs or chopsticks and discard.

Add the katsuobushi and stir gently. Let sit for 1 minute

Skim off any froth with a small mesh strainer

Let sit for 2 minutes more

Then strain the broth through the cheese cloth lined strainer that is placed on top of the large bowl. Very gently press the flakes with a spatula and discard the flakes.

Let the dashi cool and then refrigerate for upto 4 days in an airtight container or freeze up to 3 months.
Notes
Method:
no heat treatment or steeping at 85 C
Food allergy & intolerance information
: fish (not for the vegetarian version which uses only kelp)
Remarks
Sand ginger or lesser galangal has a more pine tree flavor than the greater galangal. But you may substitute sand ginger by the greater galangal, if you have to. Ginger tastes different than Galangal. Ginger is more pungent, Galangal has also more cinnamon like flavors.