Tarragon mayonnaise is for lovers of bearnaise sauce.  It is not a real substitute, but it is an easy to make, storage stable, delicious sauce. In comparison to bearnaise sauce it is lower in egg yolk and has replaced the butter by healthy fats.  You can eat it with steak, French fries or fried potato slices, on a tomato at breakfast, with fried fish or on steamed asparagus. The variations are plentiful. To provide for the best mayonnaise, use fresh, neutral tasting oils. So, use a fresh bottle and if opened, stored dark in a cool place for a brief time. Examples are sunflower oil, canola oil, corn oil.  Try to prevent using olive oil or peanut oil, as usually the flavor will get into the mayonnaise. Highly refined olive oils and peanut oils could be used from a flavor perspective, but I try to stay away from highly refined oils.
the art of making tarragon mayonnaise
There is only one major trick in creating this wonderful tarragon mayonnaise. Ahead of time (3 weeks or longer) prepare the tarragon gastrique and store it.  Also take a fresh bunch of tarragon leaves and place it in a clean and dry container or bottle. Add at the least 330 ml (a third of a quart) of the neutral tasting oil and let it sit at room temperature for weeks before using.
The flavor components of the tarragon will infuse the oil, but also the vinegar-wine mixture. It is surprising how long the green leaves keep their bright green color while stored in the oil.
Please read the post on mayonnaise for more background on how to make it.
Special equipment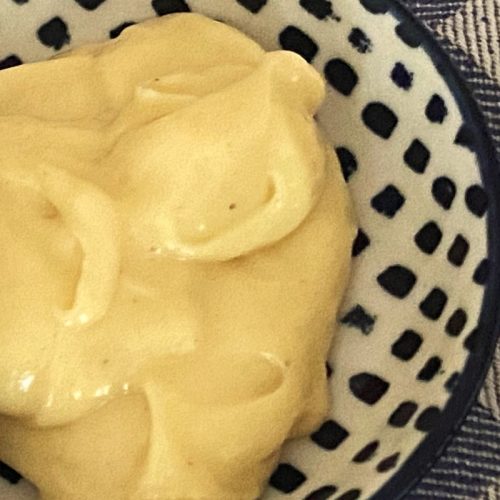 Tarragon mayonnaise
Ingredients
Ingredients
1

(20 g)

middle sized egg yolk

4

tsp

Dijon mustard

1/2

knife point xanthan gum

1

tsp

tarragon gastrique

2

tsp

freshly squeezed lemon juice

1/4

tsp (1.5 g)

salt

1/4

tsp (0.8 g)

white pepper

squeeze

(6 g)

of honey

1/4

tsp

light soy sauce or hydrolyzed wheat condiment

1 1/2

cup

cold, neutral tasting vegetable oil, infused for several weeks with tarragon leaves

I have used canola oil

1

shallot

1/4

cup

white wine vinegar

1/2

tbsp

olive oil

1/4

cup

white wine or a white vermouth

2

bunches

fresh tarragon

can substitute by dried tarragon
Instructions
Making the gastrique
Slice a shallot very fine

Cut the tarragon leaves of one bunch, roughly

warm the half tablespoon of olive oil in a small pan and softly cook the shallot.

When glazed, add the tarragon leaves, the wine or vermouth and the white wine vinegar

simmer softly for 20 minutes with the lid closed

When much liquid has evaporated add some white wine and some vinegar.

Let the mixture cool down and store it in a capped jar in the fridge for several weeks.
Preparing the oil
place a fresh bunch of tarragon leaves in a glass jar or bottle and add sufficient oil (at the least a third of a quart)

Let it stand at room temperature for several weeks

Before using the oil, filter the leaves out or decant the oil.
Making the tarragon mayonnaise
Bring all the ingredients at room temperature: the egg yolk, gastrique, mustard and oil in particular

Separate an egg yolk from the white and use the yolk and place in a sufficiently large bowl

Add 4 teaspoons of Dijon mustard and optionally a pinch of xanthan gum and mix with the whisk

Add one teaspoon of the gastrique, the salt, pepper and the soy sauce and mix

Measure 1.5 cup of the tarragon infused oil

Whisk in the oil, first drop by drop, later in a slightly larger stream, while mixing vigorously. The mixture will become more and more viscous

Keep whisking and when about half of the oil is added, add some fresh lemon juice and the honey and whisk in. The emulsion will become slightly thinner and a little more whitish. Then continue to ehik in more oil, until the mixture becomes really viscous

if so desired, add more fresh lemon juice (use drops), salt or honey to taste and keep mixing. Add a bit more oil to bring the viscosity back up, if needed.

Place the mayonnaise in a glass jar and store in the refrigerator to let the flavors blend in. Store for a few weeks.
Notes
Method: cold mixing Food allergy & intolerance information: egg
Remarks
You can use dried tarragon leaves as a substitute
Purchasing unrefined oils is much more expensive but has no anti-oxidants. If you use (slightly) refined oils, you save significantly on the cost of your oil and the mayonnaise becomes longer storage stable.