Caramelized onions provide a completely different taste and smell pallet from raw onions. The penetrating smell of mercaptans (Organo sulfur compounds) has disappeared. And the proteins that carry methionine and cysteine that causes our eyes to trigger an enzymatic reaction and make us cry has also disappeared in this process. Instead, the Maillard reaction between sugars and amino acids has colored the onions dark brown and the sweetness in the onions has come out.
Use caramelized onions as a taste enhancer on salads or even on meat. Or use caramelized onions as a main ingredient for example in vegetarian onion soup in a concentrated mushroom broth.
the art of making caramelized onions
Making caramelized onions is simple, but it will go best when using a thick bottomed skillet. Also do not let the pan out of sight as specially later in the process you need to stir often. At wilfriedscooking.com we use a cast iron skillet and a wooden spatula.
Use an oil, such as olive oil or another vegetable oil to start out with. the oil will cover the onion pieces in a thin film at the outside. Also use a sufficient number of onions, as the volume reduces a lot in the process. I usually start with a heap of 3 sizeable, cleaned and cut up onions in a skillet, yielding perhaps 2 cups of caramelized onions. This is sufficient for 4-5 bowls of onion soup.
Do not cut the onions too small in size and cut even sizes, otherwise parts will be too brown and others not even.
Special equipment
thick bottomed skillet
wooden spatula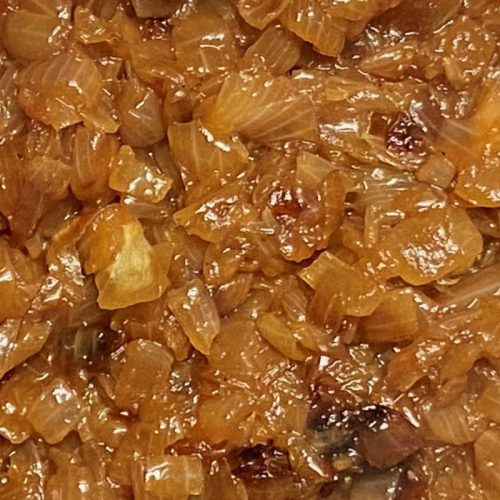 Caramelized Onions
Ingredients
what you need
3

large

onions (I prefer brown or yellow)

3

tbsp

olive oil
Instructions
The process
Start with cutting off the roots and the sprouts area

Peel the onions and cut them in half over the line that connects root area and sprout area.

Then take each half and cut with your sharp knife until but not through the root area. And repeat so you get some 10 or so adjacent cuts, following the round shape of the onion. The pieces will then be held together by the root area.

Then cut the onions halves perpendicular to these cuts, so that you obtain equal sized pieces. repeat for the other onions

In a thick bottomed skillet, heat the oil and add all the onions pieces

Then heat on high and stir. In the first 10 or so minutes you will see the volume shrink considerably, due to evaporating water. Therafter put the heat a bit lower and regularly scrape the bottom with your spatula.

Towards the end of the process, you will see that the onions become browner, you need to scrape more often, and you can reduce the heat further.

Take your time there, you do not like to have black onions, but brown, caramelized ones

You can store them in the fridge for several days or freeze them for several months
Notes
Method: panfrying Food allergy & intolerance information: none
Remarks
Remember, patience is paying off, especially at the end of the process